Description
Custom magnetic pins 4pins connector,CLE specializes magnetic connector and magnetic cable connector.Not only custom magnetic pins ,but also custom your logo exclusively . the pins plating Au,The magnet use NdFeB material,Not easy to corrode, oxidize, increase electric conductivity, reduce impedance.
Male Part- – –Specification of Custom magnetic pins 4pins connector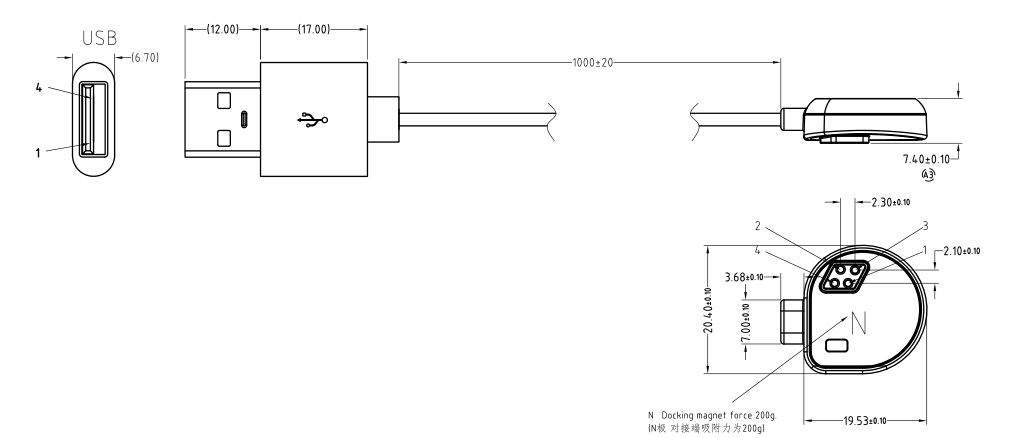 | | |
| --- | --- |
| Products | Custom magnetic pins 4pins connector |
| Model No. | CM-BP36311 |
| Voltage & Current | 12V, 1 A |
| Cable Shape | Round cable, flat cable |
| Material | PVC, TPE, Silica gel |
| Cable End | USB, JST,Adapter, Open circuit |
| Certification | RoHs, Reach, HF |
| Application | Smart watch |
| Downloaded | Drawing |
 Attention:
1.Magnet use NdFeB material, it's can keep the magnetic force forever (except high temperature、broken、same pole connection)
2.Magnet exist magnetic field interference
3.Can design short-circuit protection
CLE Standard
1.Insist on original design, from ID to finish design,open molding and test、production Integration is complete .
CLE Strength
1.R & D team independent design and development capabilities, can be customized with product development; you just have an ID, we will do the left for you,free development,R&D time 3-5 working days.
2.Product projects of multi-program selection, round, square, rectangular, shaped connection with the flexible use of the way to achieve beautiful appearance, saving space, easy plug, magnetic force can achieve 1N to 30N.
3.Connection way:magnet to magnet,magnet to alloy,magnet to Iron sheets and so on,to meet different structure and application, avoid magnetic field interference, use NdFeB magnet, it's can keep the magnetic force forever.
4.CLE have 6 years experience of R&D magnetic connector, nearly 50 products in  many areas of successful application development experience; products  related to medical, automotive, electrical, consumer electronics, intelligent wear equipment.
ABOUT US
Dongguan CLE Technology Co.,Ltd is a subsidiary of CFE Corporation Co.,Ltd. Focus on research and development, manufacturing, sales: precision magnetic connector, precision magnetic charging cable connector, to provide customers with magnetic solutions .
With the prospect of magnetic products and the development of market potential, as well in order to better and faster into the market with more focused, professional, concentrate on development of magnetic products, CFE Corporation Co,Ltd., has separated the magnetic connector product line and set up CLE Technology Co.,Ltd  as independent