1.User-friendly design: automatic adsorption connection experience, easy to operate.
2.Anti-drop adsorption interface: easy to remove, can't drive the host.
3.Custom:meet the shape of the host product to enhance product value.
4.Waterproof:the host female end can be dustproof and waterproof.
5.High current:can pass 5A-10A current, charging time is fast, and it takes a short time.
6.Corrosion resistance:Salt spray test48H-120H,can use in harsh environment.
7.Magnetic positioning:use the combination of magnet and mechanism to protect the circuit against damage.
8.Extended transfer: achieve different signal transmissions, can replace the traditional USB2.0HDMI1.3function.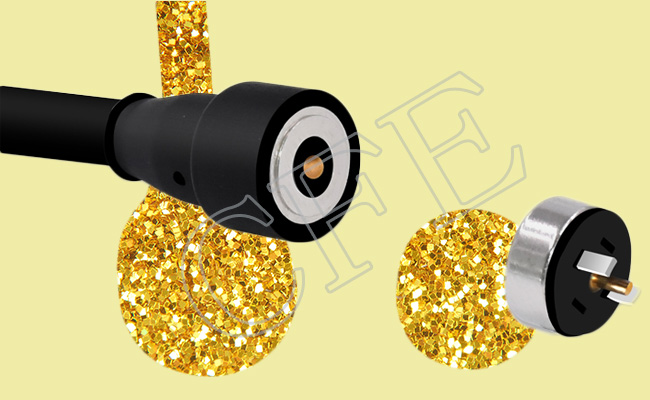 9.low cost:independently develop 2-5pin standard magnetic products, no need for mold fee, suitable for multiple products.
10.Different materials:the choice of magnets for different materials (magnets, alloys, iron parts…) to meet the special requirements of magnetic fields.
11.Magnetically adjustable:optional selection of adsorption magnetic force, unrestricted design of appearance.
12.Long life:up to 100,000-200,000 times of functional connection, using NdFeB (permanent magnet) material, the magnetic force will never decay.
13.Wide range of uses:since 2011, the development of magnet connectors has been successful, and nearly 130 products have been successfully developed in many fields;products used in medical, automotive, electronic appliances, smart wearable devices, industrial equipment, etc.
14.CFE's excellent development capabilities:we can offer customization according to your requirements,advocate you only have an ID, the rest is handed over to us, the development time is 3-5 working days, the mold opening time is short, suitable for customization.
15.Compliance with multiple certification tests:CFE always pursues environmental protection and compliance production,have inspection report items of RoHS, HF, California 65, REACH, NP and so on.
For more information about spring loaded pins/spring loaded contact/spring loaded pogo pins/pogo pin connector from us at www.cfeconn.com, please email us to cfe.ca@cfconn.com. We are looking forward to your email. Our sales team will be here to help you solve any product problems.
My link: https://www.cfeconn.com/