What's the Magnetic connector also know as magnet connector、magnetic connectors,is widely used in electric equipment one of the connectors,it's mainly a connectors between pogo pin and magnet.The structure design of charging and transmission signal through the magnet contact with the magnet , it provide a magnetic connector which has a strong adsorption and is suitable for a small size structure and lightweight product.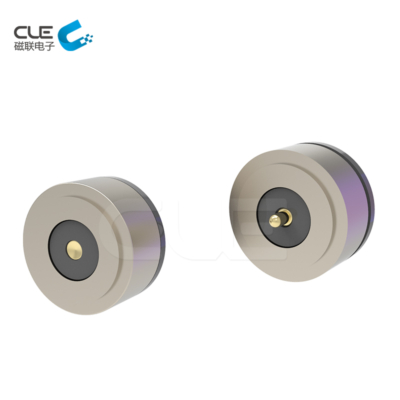 The birth of magnetic connector is a manifestation of the development of the times and the progress of science and technology. At the same time, magnetic products will be a trend in the future, because more and more customers need create their new products with high technologies and individuation.As more and more customers consult new charging methods, it will gradually replace old version of DC power supply, AC power, audio plug, RJ45 and so on.
Magnetic connector advantages:
1)Humanized design automatic adsorption connected experience; Easy operation;
2)Uses a magnetic interface to remove the device easier.
3)Operate in a long life cycle. It supports 100,000-200,000 reattachment life times;
4)You can achieve excellent waterproof design, the host female can achieve dust-proof and waterproof (IPX8)
5)Save space, the female with PCB adapter can reach Pogo style and SMT DIP bonding jumper connection;
6)Support a high current (5A-10A), faster recharge, with less operating time;
7)Excellent corrosion rating (48H-120H) meet the harsh environments;
8)Shape customized to meet with product shape matching, improve product selling point;
9)Magnet positioning, use of magnets and structure to dual circuit protection reach distinguish
the direction( It is user-oriented and user- friendly)
10)Excellent scalability interface,Can be achieved(Power Signal Video Audio Jack Etc);
11)Development time is short, low-cost mold for customization;
12)Provide a reliable high RF signal transmission. Our connector is USB 2.0
Magnetic connector can be widely used in the field including:Wearable devices、Medical equipment、Automotive industry、Beauty industry、LED industry、Lighting、Smart home 、Electronic industry 、VR equipment and so on.