Beautiful appearance brings us not only beautiful skin, but also confidence and inner strength. The passage of time takes away the time but leaves the traces on the skin. Many women use some anti-aging products in order to delay aging. At the same time, they will also do some medical beauty projects to delay the onset of aging. Common choices include photorejuvenation, laser, ultrasonic scalpel, radio frequency and other medical beauty projects. But it is not easy to insist on going to the beauty salon regularly for maintenance. More home beauty equipment has become a common choice for women. This makes it more convenient to meet women's needs and maintain youthfulness and beauty without leaving home.
Recently, beauty mask products have quickly become popular on the market. Its products mainly use red light, blue light, yellow light, and near-infrared light radio frequency irradiation to achieve the purposes of acne removal, whitening, and anti-wrinkle. At the same time, beauty masks are good news for lazy people. After wearing it, users can freely play with their mobile phones or work while doing beauty treatments. Very trouble-free and convenient.
Successful use of a cosmetic mask benefits from normal electrical current transmission between the mask and headband. This requires a novel connection solution. It must be waterproof and easy to connect. And it also must have sufficient adsorption force and will not fall off during use, so that the product can ensure a better experience. CLE provides practical magnetic connector charging solutions for beauty mask products.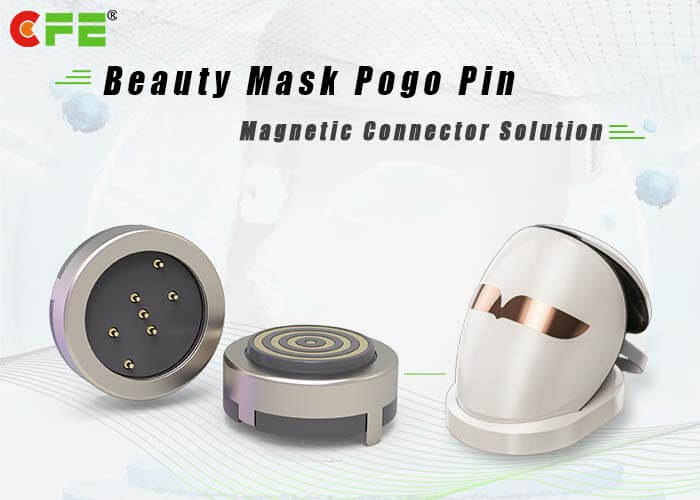 Through research and analysis of product applications, CLE proposed a magnetic connection solution for circular rotation and suction. The product can be rotated 360 degrees for connection and charging. Circular connection allows customers to conveniently perform blind connections without distinguishing directions. The inside of the magnetic connector is sealed and sealed with glue to meet the waterproof requirements of the product. And the super 1kg adsorption force allows customers to move around wearing the mask without being cautious.
CLE is a professional pogo pin magnetic connector solution provider. According to the different requirements of customers, we provide customers with customized one-stop services.